Set Equitable Water Rates
New York City relies on an outdated billing scheme to fund its water and wastewater systems. Every property owner pays a fee based on water consumption. A portion of that fee helps cover the city's stormwater and sewage management expenses. Under this scheme, properties that burden the sewer system with the most stormwater runoff — such as parking lots and big box stores with large impervious surfaces — could pay less than a single family apartment owner. (Confusing? Sure is. See SWIM Coalition's Fact Sheet for more details.) Many cities across the country have abandoned this the water consumption-based fee for a rate structure that is far more equitable and accounts for stormwater runoff expenses.
Tell City Council it's time to Cut the Crap
New York City's Department of Environmental Protection has issued a Request for Proposals for a Water and Sewer Rate Restructuring Study. As is, the Request for Proposals envisions a three year timeframe for the study and does not include a plan for public input or engagement. Facing such an important issue that will affect all New Yorkers, it is critical that Department of Environmental Protection convenes a Citizen Advisory Committee body before the study begins.
Demand Public Involvement in Water Rate Study
New York City Water Board meeting held on June 14, 2019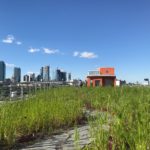 The development of green infrastructure goes hand in hand with stormwater rate restructuring. With more green infrastructure, a property would contribute less to stormwater runoff and therefore should be entitled to pay less for stormwater treatment. Depending on the chosen stormwater rate structure, separate sewer and stormwater rates could help incentivize green infrastructure on impervious properties across New York City. Help us increase green infrastructure development >